Luke's Story - Supported Internship
Luke's Story - Supported Internship
Specialist Supported Internship Programme 
Luke is 21 years old and attends Hedleys College in Forest Hall, Newcastle.
Hedleys College is a high quality specialist further education and training provider for young people with a range of learning difficulties and disabilities who require specialist individual programmes to develop their communication, independence and employability skills to make a successful transition into adulthood within the North East region.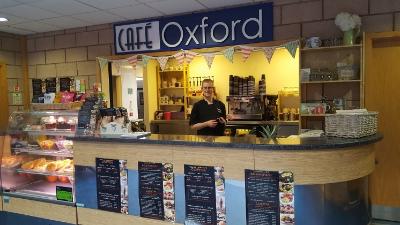 Prior to accessing a Supported Internship Luke was involved in the Vocational Programme for 2 years at Hedleys college. This is a specialist course for young people up to the age of 25 with complex learning needs and multiple disabilities (physical, medical and/or sensory).
This opportunity has given Luke the transferable skills required in the world of work especially in a catering environment allowing him to progress on the Supported Internship Programme.
Luke is currently enrolled on a Supported Internship Programme at the Oxford Centre in Longbenton working 3 days a week.
Supported Internship are structured study programs based primarily at an employer's premises. They are intended to enable young people with learning difficulties and/or disabilities to achieve sustainable, paid employment by equipping them with the skills they need through learning in the workplace.
Luke clearly has an interest in the catering environment and enjoys working as part of a team.
As a kitchen assistant his role includes setting up the counter, food preparation - ensuring he follows strict hygiene procedures, making sure the work carried out to a professional standard. Luke is polite when serving customers and customers have reported he has fantastic workplace etiquette.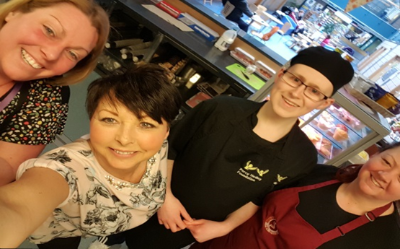 Luke says…
'I like working with Barbara and enjoy serving the customers.'
Job Coach says…
'During his placement Luke is able to follow instructions, using his own initiative and can carry out tasks with very little prompts from support.
'A lot of hard work and dedication from everyone involved.'
Parent's perspective
"Luke really enjoys his work placement; he looks forward to going in each day.  Considering the demands the placement puts on him, he manages extremely well and this is a huge achievement.  This has only been made possible because of the dedicated staff within Hedleys College and on placement, the structured support he receives through the internship, and because the company who he is working for are giving people with special needs a rare chance to work within a commercial environment.  Future employment looks highly likely, we couldn't have asked for a better outcome".
What the Employer says…
'Luke is really starting to shine - he now needs only a few prompts to carry out his daily tasks. Barbara has organised his day into a task list and he knows these are his jobs. Customers love him. He is always really polite and helpful, is quick to learn and is making great progress.'
'Future employment for Luke looks promising if he continues to focus the way he has recently'.
What the customers say…
'Luke is great to have around the Centre'
'How nice the place becomes when Luke is here – we love seeing his smiling face.'
Feedback from Ofsted was…
'Students' work in local businesses is promoting positive attitudes about people who have disability in the wider community. One employer commented that having a student on placement has taught him to be less judgemental. A member of the public took the time to tell inspectors how much students working in a local café had improved and grown in confidence over time.'
Ofsted Report 2016
Coffee Giant has worked closely with Hedleys College over the past 3 years, offering work placements for students to gain valuable experience in the work place.