Health Health
right
Healthier Together
Healthier Together is a new community initiative to provide consistent, accurate advice for parents, carers, and young people, and clinical resources for health professionals all in one place on a regional website. The initiative has information for families on common childhood illnesses, including advice on what 'red-flag' signs to look out for and where and how to seek help. Healthier Together is part of a national programme, with each region developing specific websites localising content to meet the needs of their population.
The Healthier Together initiative include a website and mobile application. Healthier Together website provides useful resources for parents, carers and young people (via information leaflets, self-care advice, and guidance on when and how to access appropriate local healthcare services). Healthier Together mobile app educates and empowers parents and carers to make informed decisions of when and where to access healthcare, reduce anxiety amongst parents of young children, and avoid unnecessary A&E and GP presentations.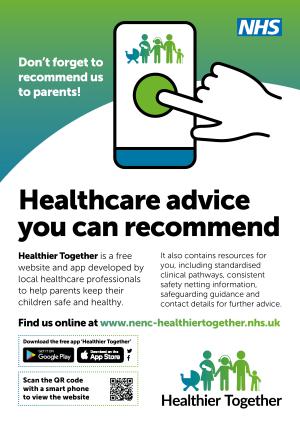 Covid Translated Information Posters
Public Health have provided translated posters to raise awareness on vaccinations. Posters have been translated into Kurdish-Sorani, Romanian, Czech and Farsi.